Update: Just to clarify, there are no regular scheduled boat trips from Rosslyn Bay Harbour to Humpy Island, leaving the options of hiring a boat or going with boat-owning friends.
Well, 2 weeks ago on Friday the 25th April my dad and I, along with some boat-owning friends of ours, went out to Humpy Island for a weekend trip. I apologise for taking 2 weeks to write about, but I have been busy and I did have to go through 300 or so photos of the trip, which meant that I kept putting it off.
Humpy Island is a National Park about 65 hectares in area, located just south of Great Keppel Island. More info is available from this link.
I've decided to call this a photo essay because of the large amount of photos that I've decided to include. Also, just note that I'm not documenting everything we did on Humpy Island, like snorkelling out on the reefs, with and without a boat. The reason being that I didn't take many photos of that (for fear of damaging or wetting the camera). I did see a turtle underwater while I was snorkelling out in the boat, however. I tried to chase it as well, but they can move surprisingly fast.
Friday : Arrival Day
On to the story. We got up at about 5:00AM on Friday morning, leaving home an hour or so later. The meeting place was at Rosslyn Bay Harbour, which is the main boat harbour for the Capricorn Coast, so we drove there and started loading up the boat we were going out on.
Once that was all done, we left for Humpy Island at about 6:30AM! There were 2 large tinnies and 1 boat going (which had already left Thursday night). We went in one of the tinnies and the other tinny followed behind us.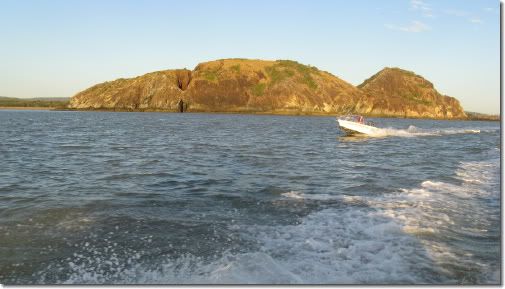 A view back looking at the Rosslyn Bay Hill. The tinny in the picture was following us. I love the morning light, it makes everything look really pretty.
Appearances are deceptive on the ocean, and the distance to Humpy Island was no exception. I would have though that it was only 7 or 8 kilometres, but I bought my GPS along and the real distance was over 19km! It took us about 45 minutes to get to the Humpy Island, we got a bit wet but it was a perfect day so that didn't matter too much.
On arrival we unpacked everything from the boats and chose a camping spot. A funny thing that happened was that everyone was down at the beach but someone had left biscuits on the table, and the crows were tearing into them.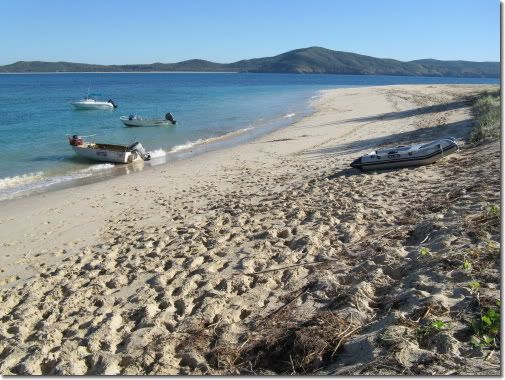 The beach, soon after arrival. The boat we came over on is the closest in the water.
The people who had come to Humpy on Thursday night won't around when we arrived, so we just set up camp in the main camping area just near the path to the beach.

Looking in the other direction from above. The camping area starts just where the trees are. We originally had our camping spot just a little way in.

Looking straight up to the main campground.
After we had set up our tents and stuff I decided to walk up the hill and take some photos.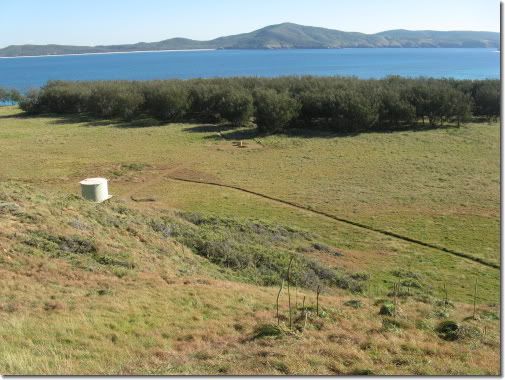 Looking down onto the trees and camping area. We were camping in the far left of the main clump of trees, later on we moved a bit out of sight to the left.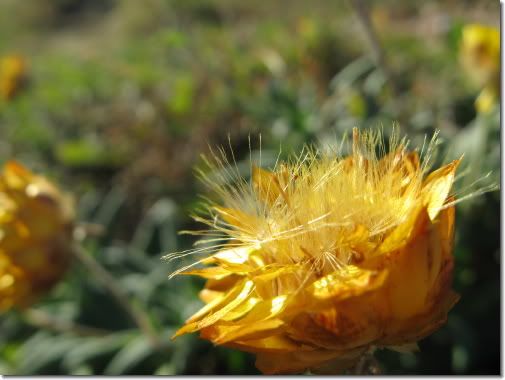 A wildflower growing on top of the hill. It looks a bit like a dandelion in my opinion.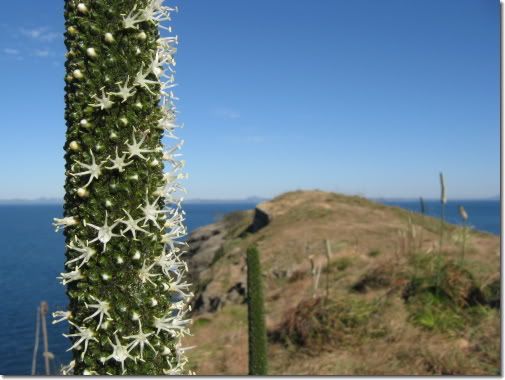 A type of long seedpod attached to a swirling base of long, thin, and serated pieces of grass or leaves. I think they are nicknamed black-boys (now politically incorrect) because they actually thrive on fire and can be seen all covered in blackness.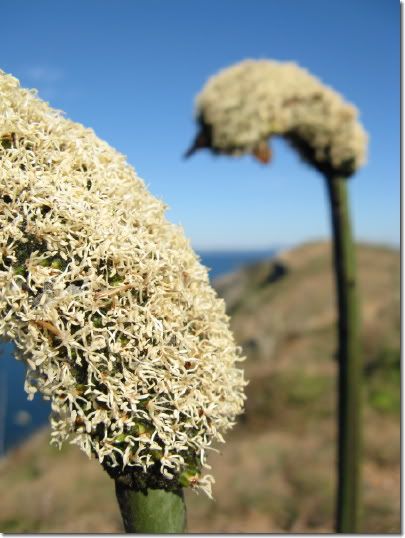 I think these are the same type of plant shown in the above photo, just with a full crop of matured flowers.
After a few hours or so the people who had come the previous night arrived back. Two of my friends and I decided to go on the whole island walk, which basically winds its way around the island "hill range." I've just included just a few photos below because I'm going to put in more photos from when everyone did the walk.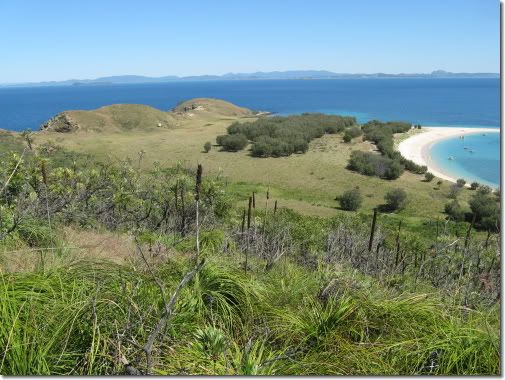 This is looking from the far side of Humpy Island towards the camping area on the island, and Emu Park in the distance. The little hills you see on the left is where the above photos were taken.

The main cairn on Humpy Island. Cairns are basically just piles of rocks that are added to by people who have made it to the highest point on the mountain, or island.
After we had arrived back from the Humpy Island walk, the Thursday night people then went for a walk around the camping area. When they came back they said they'd found a much better camping spot (about 50m away) from which the boats could be easily seen. We walked over and had a look, and decided that it was better than our current spot. Moving was comparatively easy; All we had to for some tents was pick them up, carry them, then plonk them down again.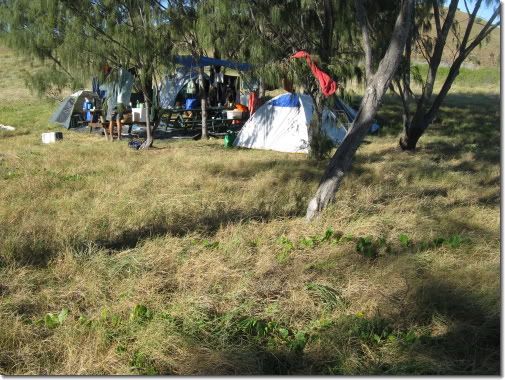 The new campsite that we moved too. It was much more open and there were no other people camping in that area. It was about 50m from the tap.
Well once everything had settled down we basically stayed settled down until the beautiful sunset.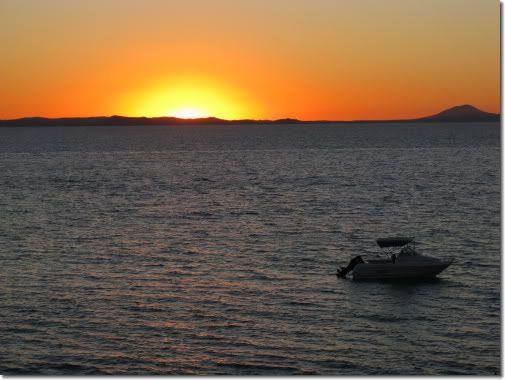 The beautiful sunset. This would be looking towards the Capricorn Coast / Yeppoon area, but I can't identify the coastline accurately enough to be sure of the exact locations.
After the sunset had finished, my friends and I decided to sneak around the camping area and flash lights at people once we got up close. That's probably about all I should tell you ;-).
Saturday : Full Activity Day
Relatively early on Saturday morning just about everyone in our group decided to do the island walk, which we (meaning from now on two friends and I) had done the day before.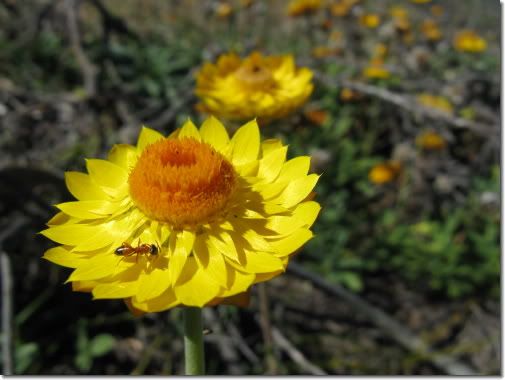 These pretty wildflowers were located about halfway. The ant inside was a stroke of luck.

Some more wildflowers. I reckon this one looks a bit like a dandelion.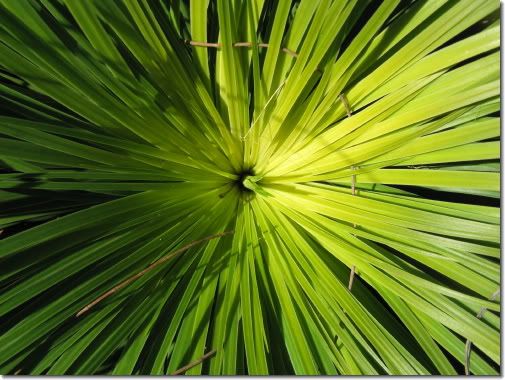 Another blackboy plant, this time all nice and green and without a stalk in the middle. This meant I could get a nice symmetrical overhead shot.
Once we all arrived back we mainly stayed around camp (with the exception of snorkelling out with the boat, see the top of this post) until late afternoon, when we walked up the hill closest to us to get some photos with the afternoon light.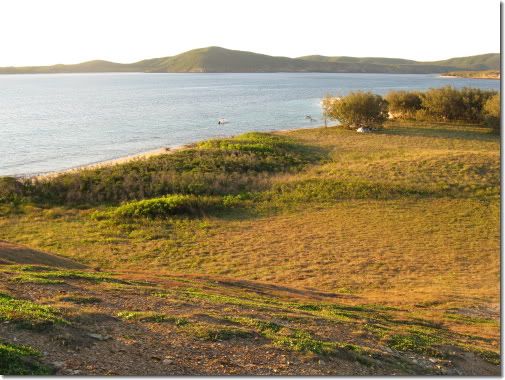 Looking towards our camp (just underneath the first clump of trees along the shore).

A zoomed in view of the main sandbank where we fished and snorkelled from.

My two friends. I'm on the left. This is looking east from Humpy Island out into the great Pacific Ocean.
Sunday : Day of Leaving
Sunday morning was fairly lazy, we just had breakfast, went for another snorkel, and then started packing up. Packup up took about half an hour, once that was done we just threw everything in the boats and said goodbye to Humpy Island.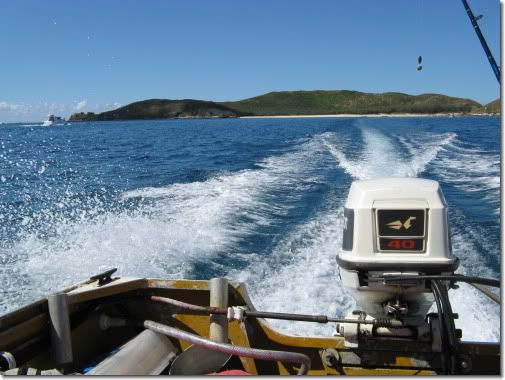 My last few photos of Humpy Island were taken from the back of the tinny as we motored away.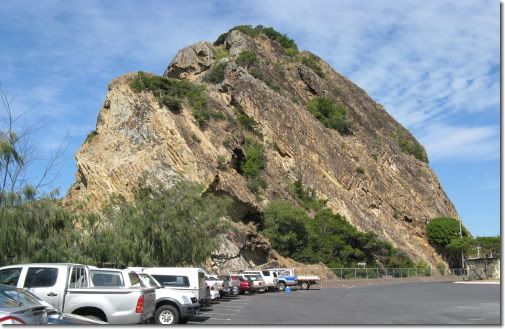 I took a few photos at Rosslyn Bay Harbour. This is the biggest hill at the harbour, there is another one just on the other side that has a walking track on it.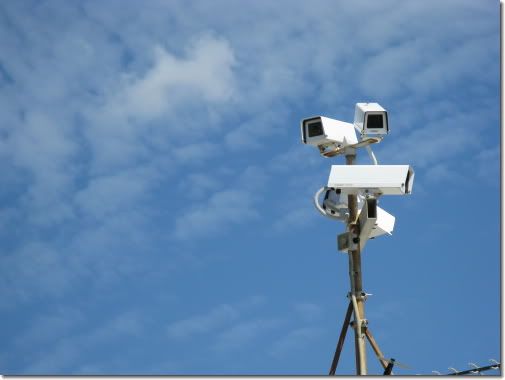 This is a bit of a funny photo, I think it was on top of a Fisheries building and it was a pole with 4 security cameras pointing in all different directions.
That just about wraps up my trip to Humpy Island. I hope you enjoy the photos as much as I enjoyed taking them!