Well if you haven't noticed YeppoonInfo.com now has a brand new design & website, which I think is much better than the old one. The new design has a much more "traditional" look and feel, compared to the very ordinary blog style design that the previous website had. Before I go any further, please have a look at the screenshot below and visit the site!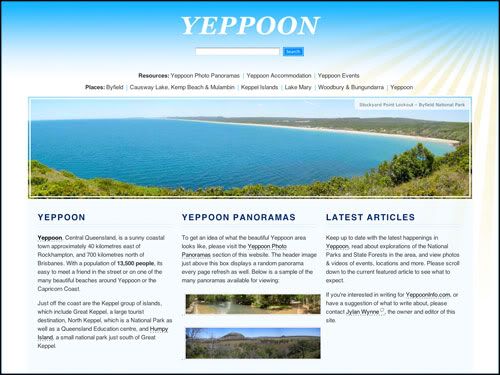 This new site includes a totally different structure, for example along the top just above the random header image display (which showcases panoramas around the Yeppoon region), there is a places menu listing all the localities in this area. Above that menu are the resource links, which currently include the Yeppoon Events, Yeppoon Photo Panoramas and Yeppoon Accommodation pages. Later on as soon as I can code it, I hope to add a Yeppoon News page which people can subscribe to via email or RSS.
If you have any other suggestions of what to add or what I can change, please don't hesitate to contact me!